By Cole Streeper, DieHardDevil.com
September 12, 2015 4:07 PM
A Week in Review
Week 1 is in the books, as is the official on-field debut of Desert Ice. I watched the Texas A&M matchup on TV, and during the times I wasn't struggling to see through the tears, I was enamored with Desert Ice.
The uniforms caught the eye, but never felt overdone like some of Maryland's combos or Oregon's early efforts.
Aesthetically, the Sun Devils looked good. Athletically, it was not a good debut for Desert Ice or for the 2015 Arizona State squad, but I suppose if you're going to lose, lose in style. There's a lot we discuss about the loss elsewhere, but, mercifully, this feature is about uniforms.
Overall, Desert Ice looked amazing, and I felt the equipment staff and Adidas outdid themselves.
 

Desert Ice Uniform Grade: A
The Week to Come
In week #2 of college football, we'll enjoy the first home game at Sun Devil Stadium following the completion of Phase I renovations. Since the initial re-branding in 2011, Arizona State has held steady to the tradition of wearing the classic Gold helmet/Maroon jersey/Gold pant combo for the home opener.
On Wednesday, the Sun Devil Equipment staff tweeted out a teaser that maroon jerseys would indeed be worn, but left it open ended as to the helmets and pants:
Maroon jerseys for @FootballASU What will we wear with it? #teaser #newcomboeveryweek @adidasFballUS uniforms rock pic.twitter.com/rpBLXpWsx7

— SunDevilEquipment (@SunDevilEquip) September 9, 2015
This left some fans scratching their heads. Would we see a break from tradition and showcase a different combo for the home opener? I was confident that the color combo would hold true but was hopeful that this year's gold lid would feature the asymmetrical look (over-sized pitchfork on one side, and the player's number on the other.)
It wasn't until late Friday evening that the equipment staff revealed that it would, in fact, be the Gold/Maroon/Gold look with standard sized pitchforks on either side of the helmet:
No surprise here, rocking traditional gold maroon gold for our first home game!!!!!! @adidasFballUS @FootballASU pic.twitter.com/Aapurqq8nl

— SunDevilEquipment (@SunDevilEquip) September 12, 2015
Reaction
This look is always a win-win. Maroon and Gold are the colors that make ASU, ASU. That beautiful, trademark color combo has adorned the gridiron at Frank Kush field for many years and never fails to impress.
The great thing about the traditional combination is that fans of all ages are firmly on board. The stingiest traditionalists are overjoyed to see the regal colors brought together in the way they know and have been accustomed to.
The "new age", younger Sun Devil fans appreciates it as well, because even though they love the innovation, the Maroon and Gold combination is the identity of the school and team.
Finally it's a great way to introduce all new Sun Devils, whether they are children, adult first-timers, or freshmen, to the look that has always made Arizona State University stand out.
I love that we continually get to showcase our colors outshining all others between the Buttes to kickoff each home season opener. It is a beautiful sight to be seen.
Long may our colors outshine all others, Echo from the Buttes, "Give'em Hell Devils!"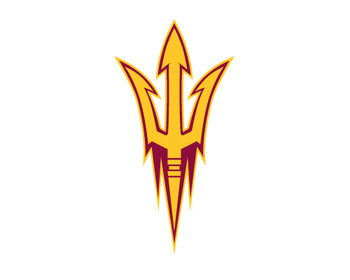 Cole Streeper is a lifelong Sun Devil and an Arizona State graduate of 2010. He has always been passionate about ASU Football, and that passion has only grown with time. You can follow Cole on Twitter at @sundevilcole7.